Inspiring Golf at Every Turn
Arrowhead Golf Club's par-70, 6,636-yard championship golf course was crafted by iconic designers Robert Trent Jones, Sr. and Robert Trent Jones, Jr. to blend seamlessly with its breathtaking natural setting in the foothills of the Rocky Mountains. Majestic red sandstone rock formations frame gently rolling hills and manicured emerald greens, with numerous elevation changes, unique bunkering and striking water features creating both strategic diversity and a stunning backdrop for golf.
Adding to the allure, golfers share the course with an abundance of wildlife species, including deer, elk and foxes. While challenging for scratch golfers, the course offers multiple tees on each hole, enabling golfers of all ages and abilities an opportunity to enjoy this one-of-a-kind Colorado golf gem - one of America's most photographed courses.
To book a tee time, click here. To learn more about golf instruction, golf tournaments or golf leagues for men and women, please call (303) 973-9614.

Walkthrough
Our 18 Hole Course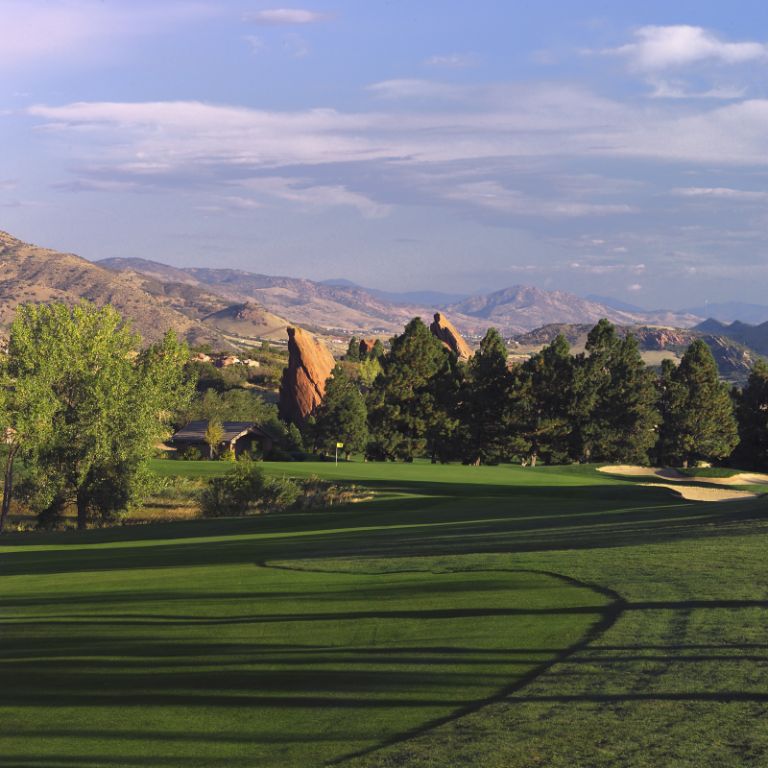 Hole #1
434-yard, Downhill par 4 with a well placed bunker to narrow the landing area off the tee. The green is well guarded with bunkers on the right and a natural hazard on the left.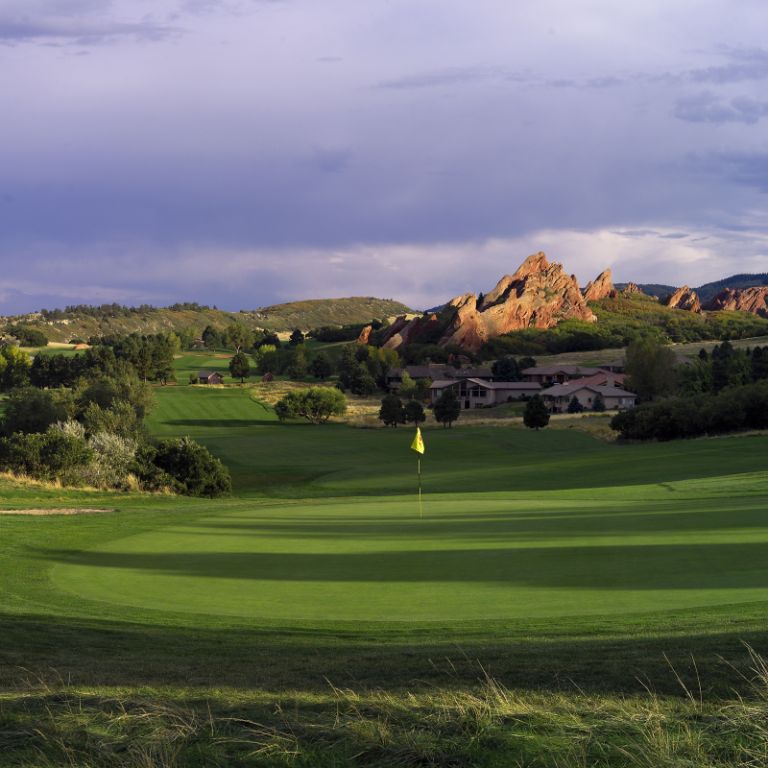 Hole #2
554-yard, This uphill par 5 is a long hole for even those big hitters. A back left pin placement requires you to carry a bunker to a shallow green.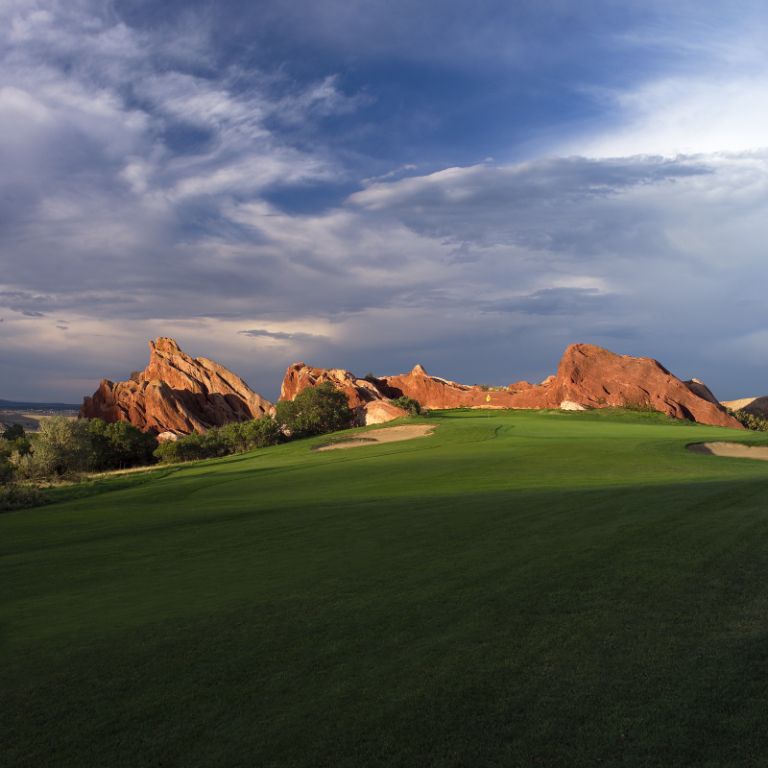 Hole #3
197-yard, deceiving par 3 usually plays shorter than the yardage. On a clear day, look off in the Northwest sky for a glimpse of downtown Denver.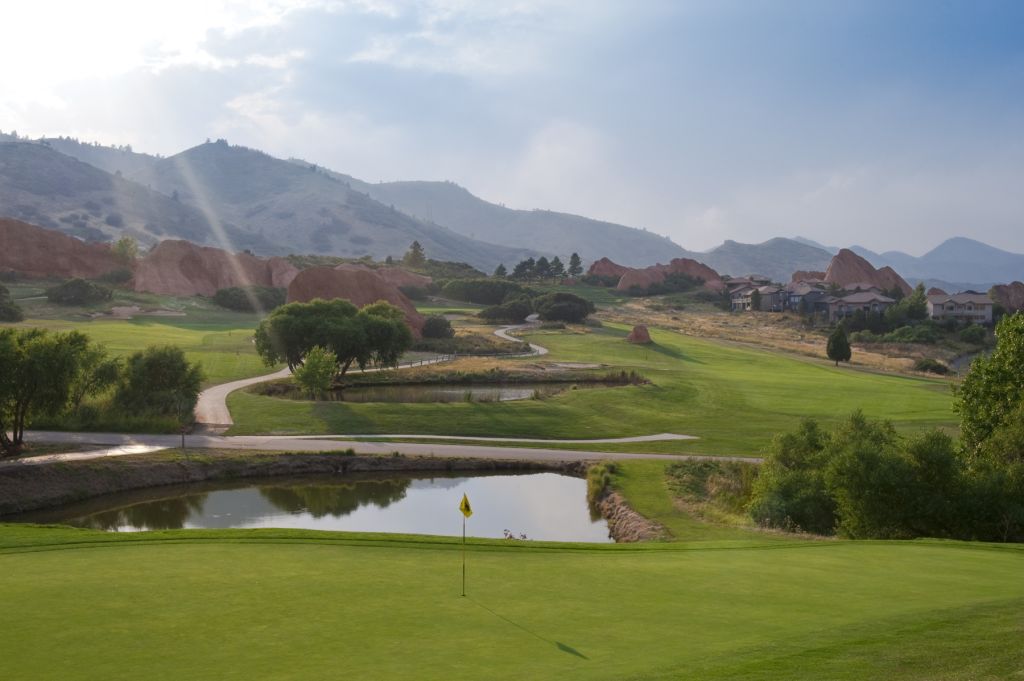 Hole #4
414-yard. This short, downhill par 4 requires a well-placed tee shot. Make sure to carry your second shot all the way to the pin to avoid the neighborhood road and water that separate the fairway and green.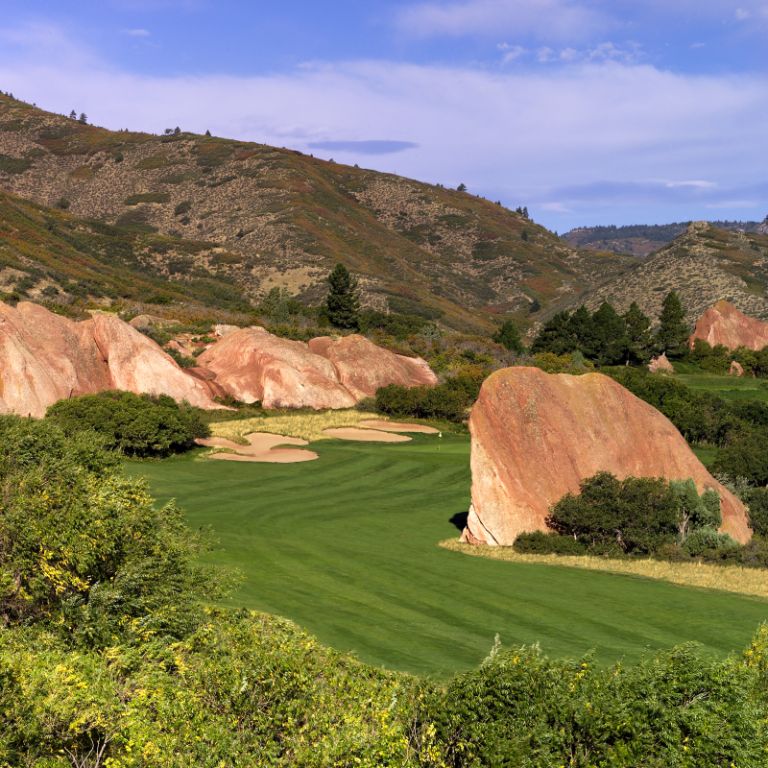 Hole #5
337-yard. With this short dogleg right par 4, playing an aggressive line can shorten your shot to a well-guarded green. Unless you are a long bomber, be careful not to get caught behind the towering rock formation just off the right hand side.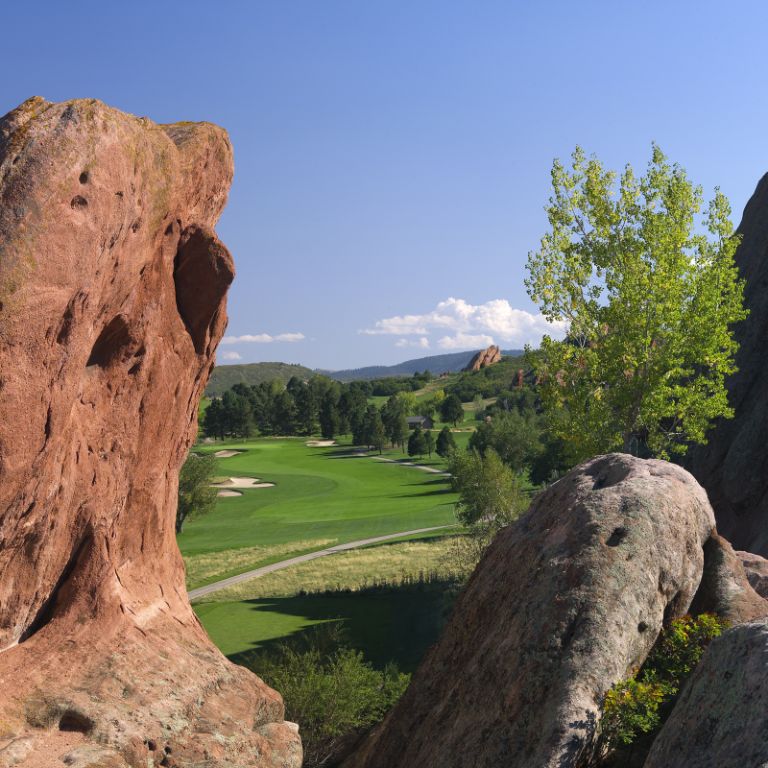 Hole #6
442-yard. A straightforward par 4 requires two well-played shots. This hole plays slightly uphill. Despite its straight appearance, this is a challenging hole.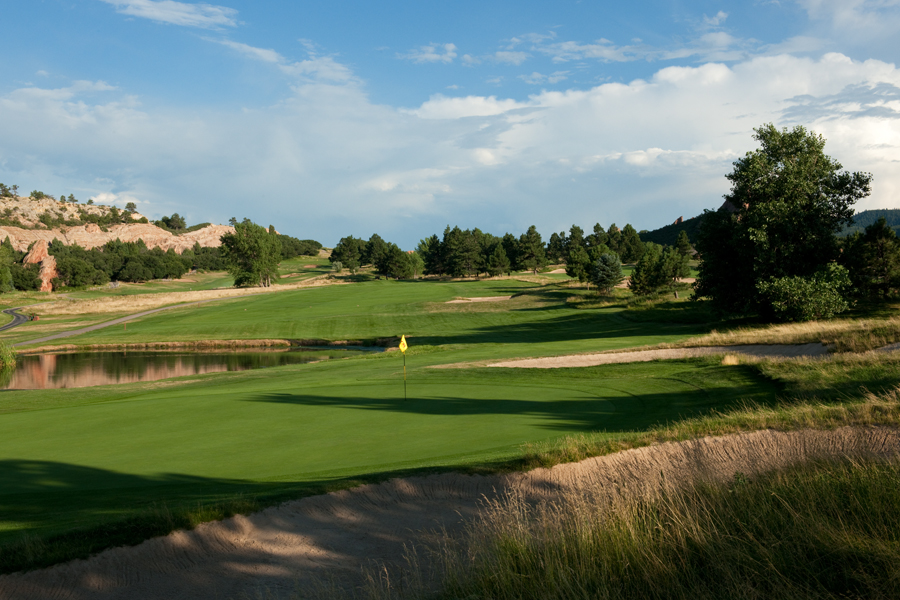 Hole #7
351-yard. This short, par 4 has water guarding the green short and right making it hard to stay dry until you are on the green. The ridge in the middle of this green makes 2 putts a good finish on this one.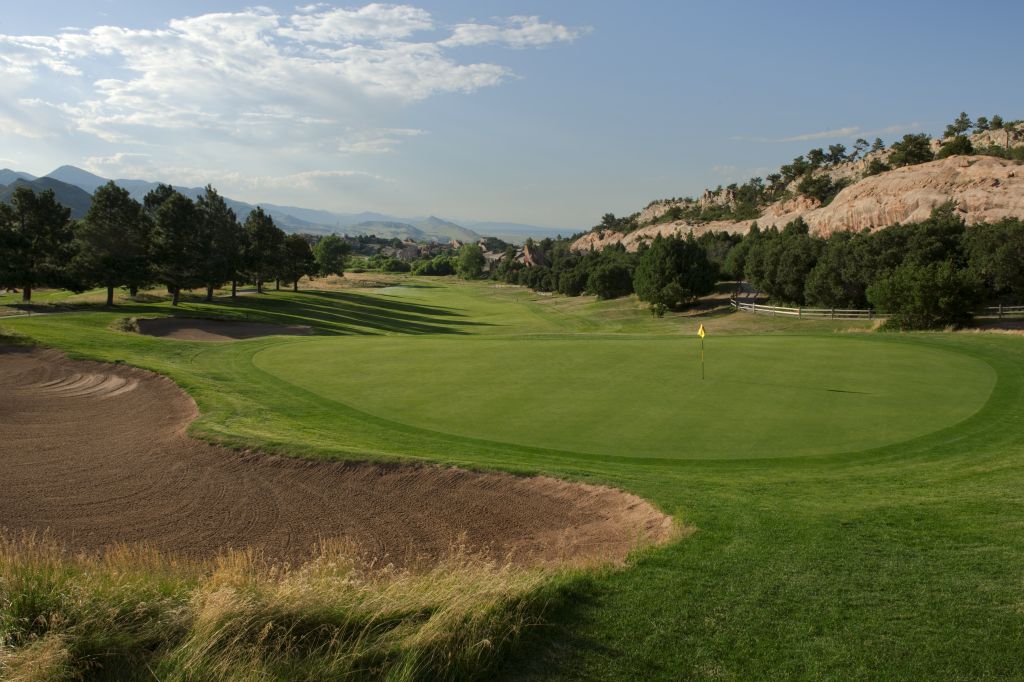 Hole #8
356-yard. Uphill from the moment you leave the tee box on this par 4 makes picking the correct club for your second shot a tough test here.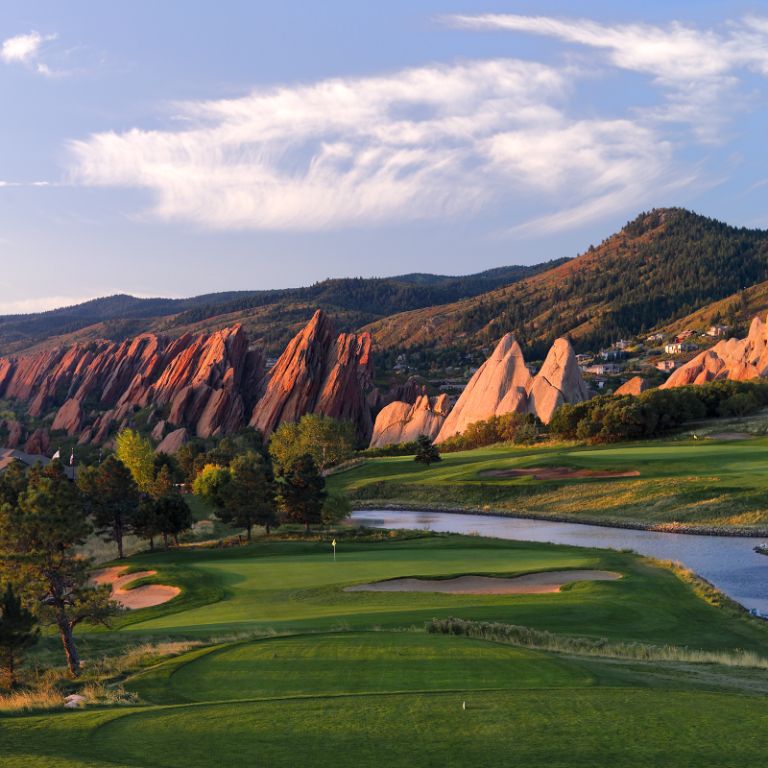 Hole #9
133-yard. A short downhill par 3, the toughest challenge here besides the bunkers and water guarding the green, is keeping your concentration on a tee box that offers an incredible view of the Hogback formations that await on the back nine.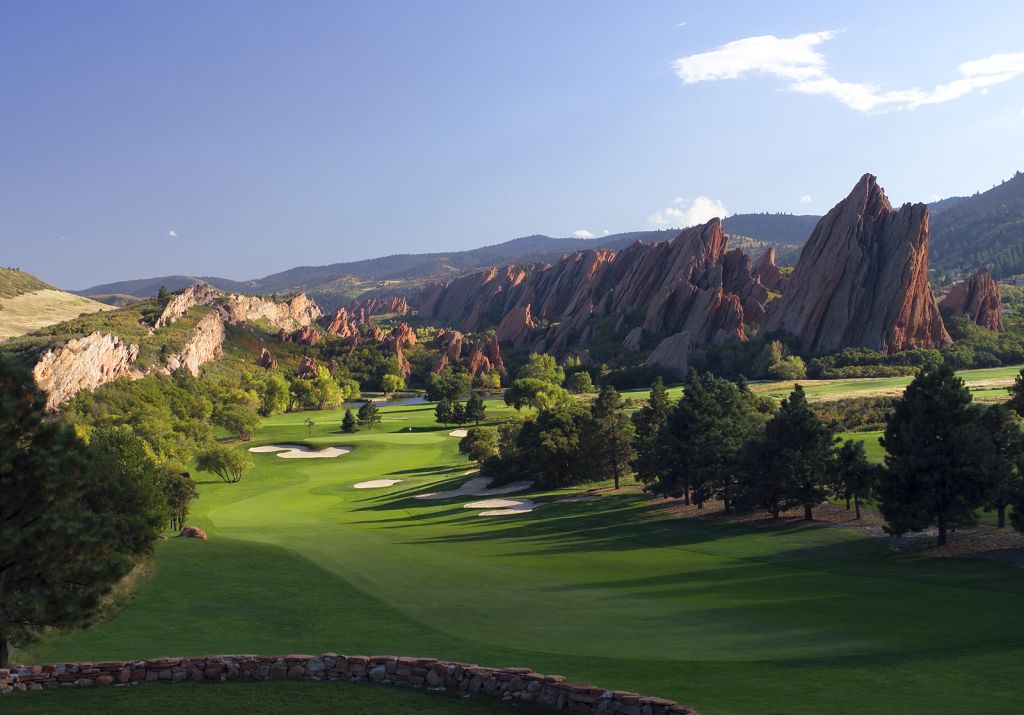 Hole #10
400-yard. With bunkers along the right side landing area and a bunkers around the green, there is not much room for error on this hole if you want to walk away with a par.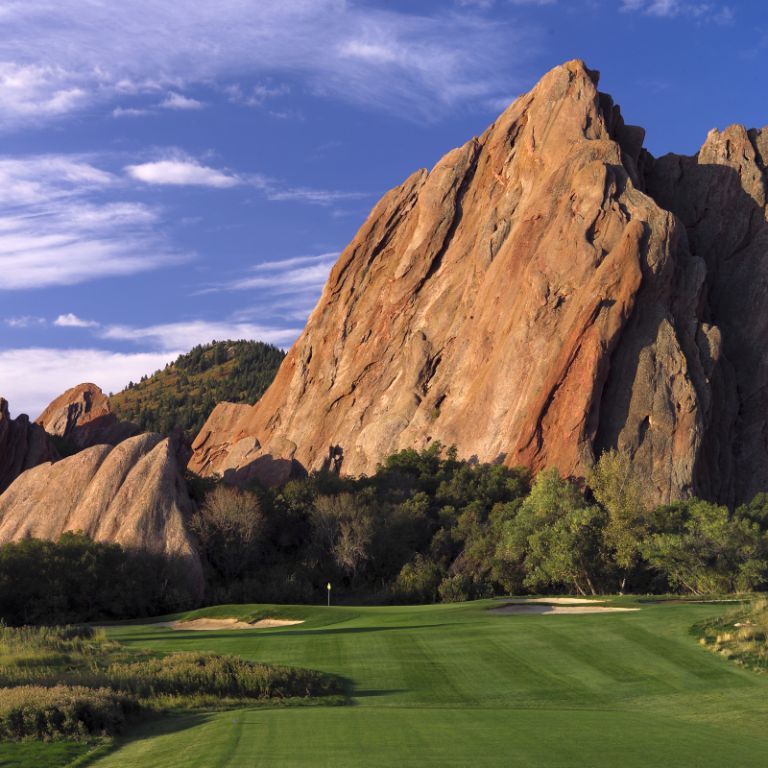 Hole #11
145-yard. This fantastic par 3 is one of the easier holes on the course if you can avoid the large deep bunker on the left and the trouble long.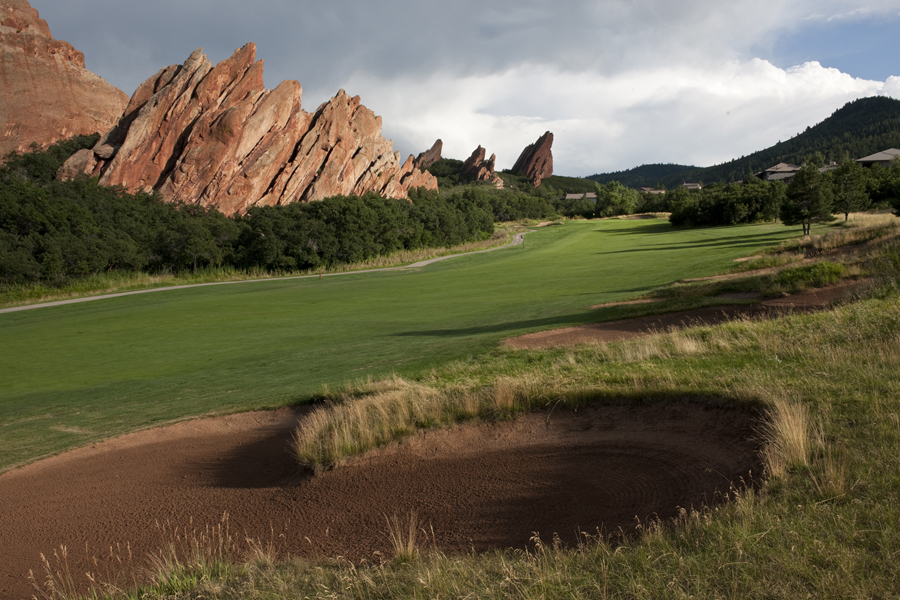 Hole #12
An uphill, dogleg left 415-yard par 4. A challenging hole with a difficult, sloping green.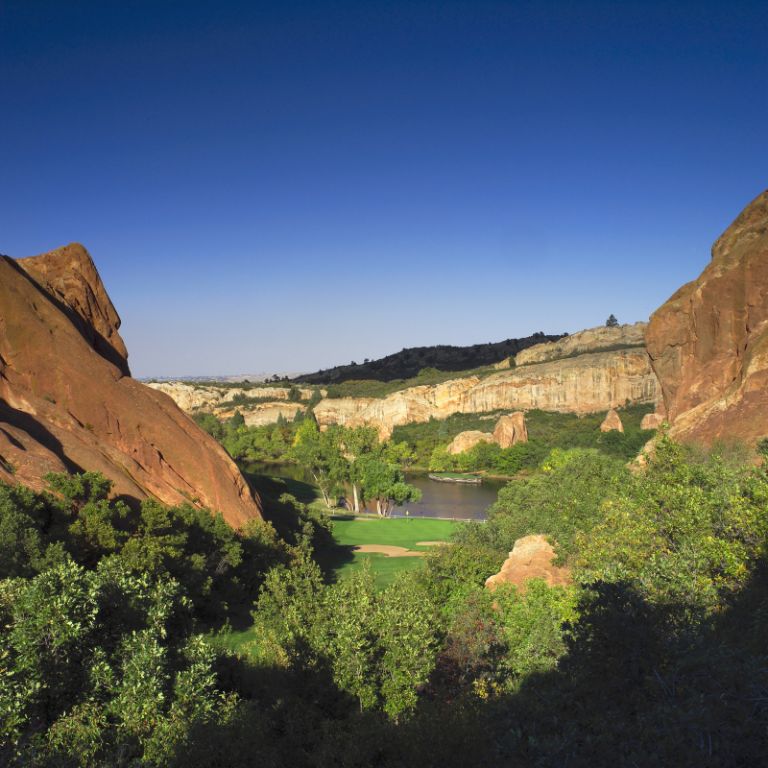 Hole #13
The signature hole of Arrowhead Golf Club. A 174-yard par 3 that will cause many second and third guesses of what club to hit. The steep, downhill hole is a scenic wonder which will keep you looking for that wily fox that lives to the right of the tee box.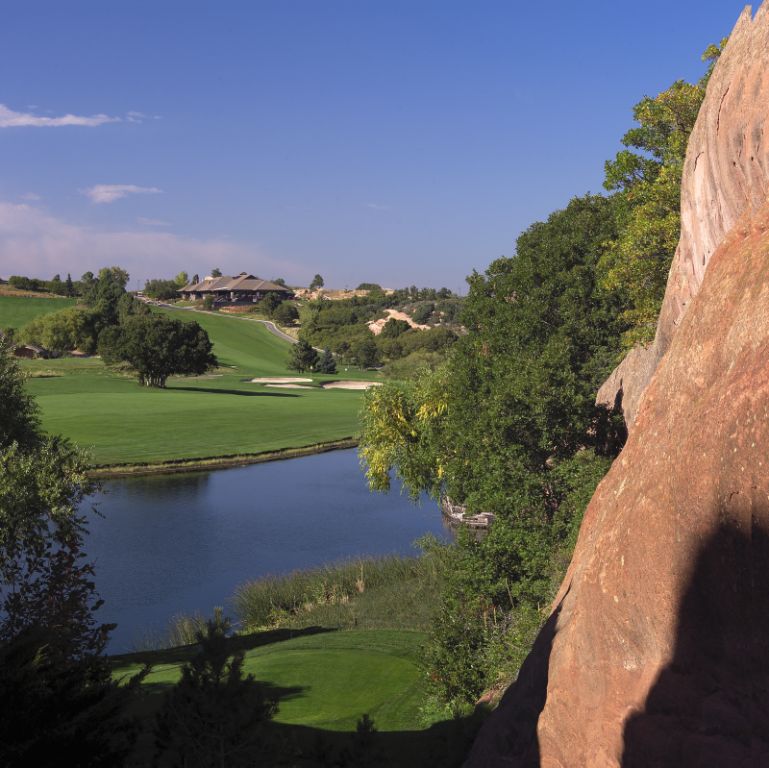 Hole #14
Shoot out of the rocks and over a lake. This 364-yard par 4 has a narrow green guarded by bunkers on both sides.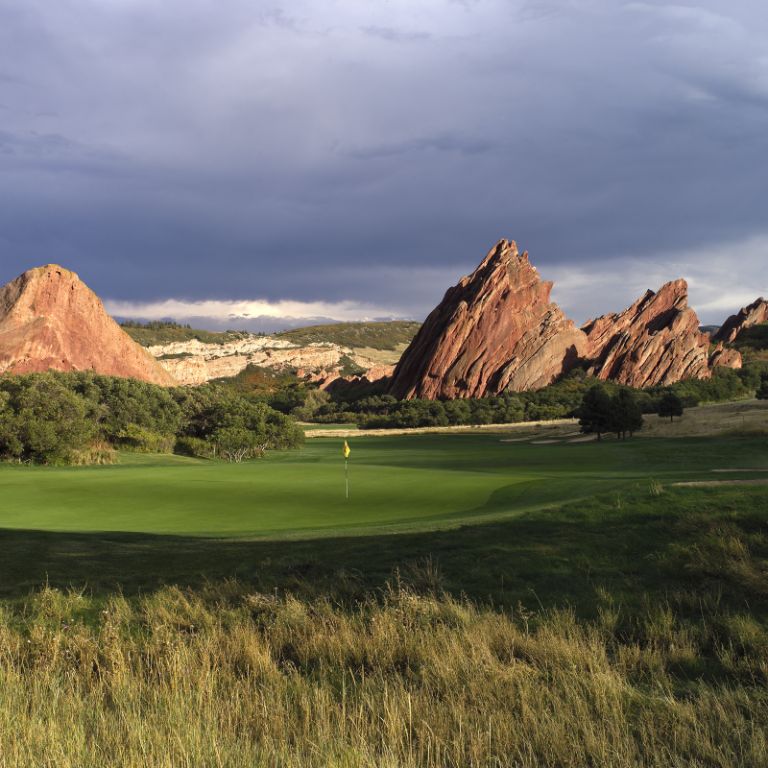 Hole #15
Carrying the rock formation to cut the corner is not a viable option. There is nothing but scrub oak on the other side. Play to the corner and hit a short iron into the green which slopes from back to front.
Hole #16
585 yards from the back tees, this is the longest hole on the course. The correct line is down the left side of the fairway. As you approach the green, this hole has a great view of Denver in the background.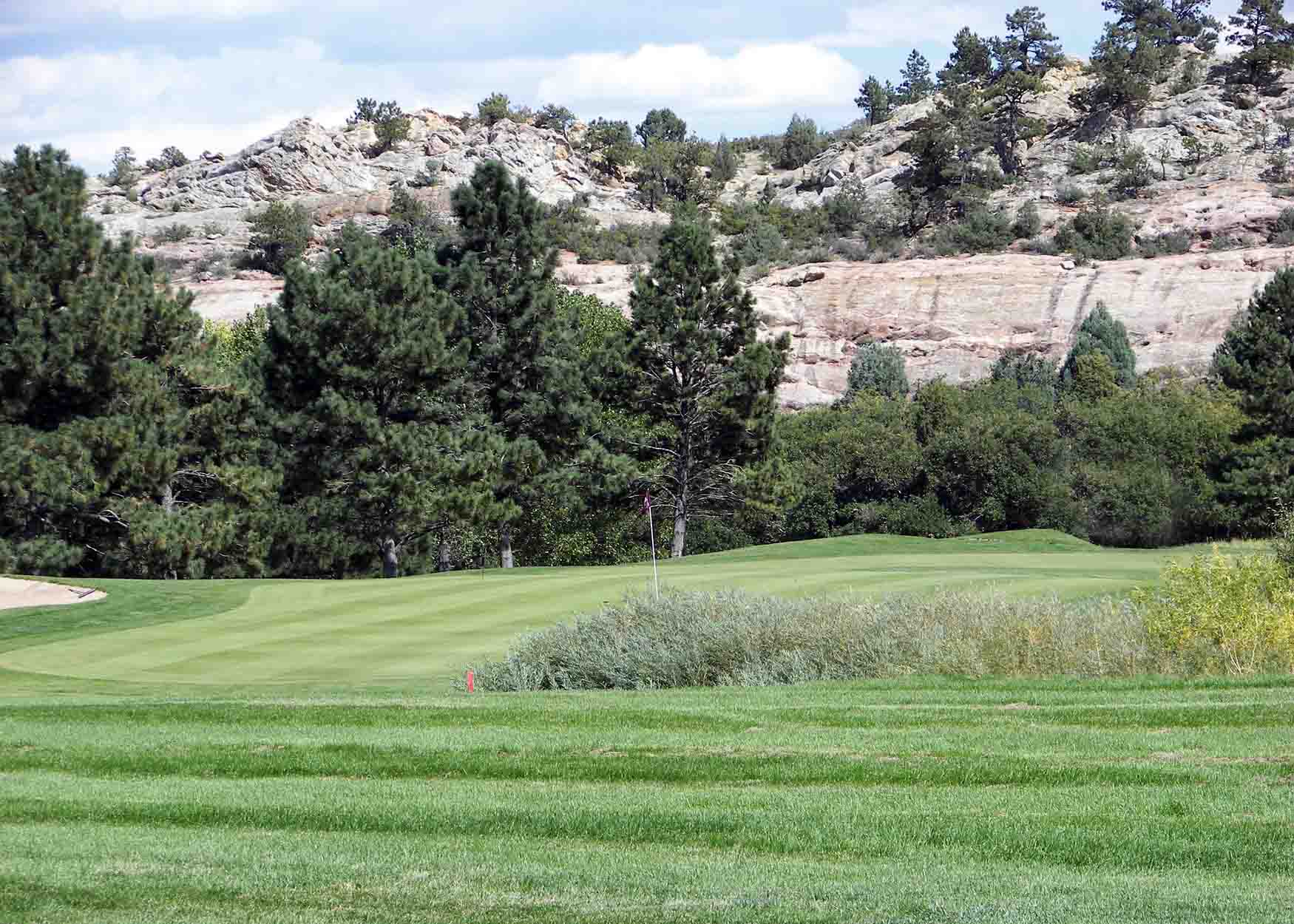 Hole #17
A downhill, 204-yard par 3. Be ready for a lake on the front right and a bunker on the left. A large green on this hole makes for a demanding finish.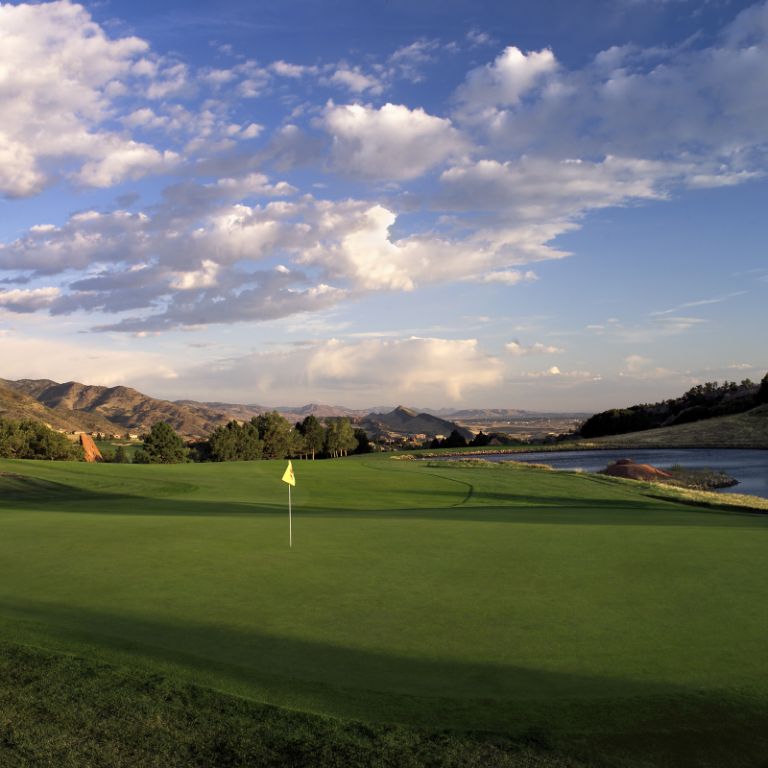 Hole #18
A 543-yard par 5 has a hidden lake when looking on from the tee box. This is an uphill hole with a large bunker and protected green. A well-played shot on right hand side will enable you to reach the green in two.